August 2015: Better News from Around the World
Each month we bring you updates from our International Program and some of our wonderful affiliate programs from around the world. Check out the awesome news from August 2015 below!
GLOBAL: On August 17, "Out & Around" - a documentary in partnership with the It Gets Better Project - premiered for the first time on Logo TV! The film follows lesbian couple Jennifer and Lisa on a year-long trip - over 1,138 miles, 342 days and 55 interviews - to showcase what being LGBT is all about in countries around the world. Check out the trailer below, or click here for more information.
During August 2015 we saw the release of the latest episode of "Fearless: How Ten LGBT Activists Made It Better," a MSNBC series produced in collaboration with the It Gets Better Project and the ONE Archives Foundation. Each episode features a trailblazer in the 20th Century LGBT movement in Los Angeles.
[Since the 1970s, Jewel Thais-Williams has given the black Los Angeles LGBT community a place of their own through her Catch One nightclub. After more than 40 years, Thais-Williams stepped down from running the club in July 2015, but she reflects one more time on the club's origins, the famous names who came through the club's doors and the police who harassed her and her patrons.]
Keep your Pride/Summer Spirit going all year long with our limited edition Rudy's Barbershop tees (availabe to order outside the U.S.)! To order your own, go to itgetsbetter.org/rudys, or click the image below.
To celebrate Pride in June, Uber teamed up with the Project in 5 West Coast cities in the United States to help raise funds and share stories of hope to LGBT youth. Check out the incredible video from this collaboration below, and learn more by clicking here. Hopefully this same opportunitiy can be available in cities around the world for next year's Pride!
It's not too late! Now until October 11, you can support the It Gets Better Project by registering a .LGBT domain. For each domain name registered, dotLGBT will be donating $20.00 to the Project to help us continue our programs that are making it better for LGBT youth! Register your .LGBT address and support the It Gets Better Project today. Learn more by visiting www.itgetsbetter.lgbt.
AUSTRIA: This month we celebrated two years of working alongside our affiliate project in Austria, Es Wird Besser Osterreich. Whether engaging with young people on the streets of Vienna, helping to build more inclusive work environments with international corporations such as Baxter Pharmaceuticals, or uploading inspirational videos from well-known Austrian celebrities such as Conchita Wurst, Es Wird Besser Österreich is making real change happen for LGBT youth in central Europe. Keep up the great work!
CHILE: We couldn't be prouder of our affiliate project team in Chile, Todo Mejora, for their recent participation at the 8th International Education Fair held in Santiago on August 20-21, both as exhbitors and as a member organization on the Content Committee. (After doing such a spectacular job at last years event, who could blame the hosts for inviting them back this year?!) Once again, Todo Mejora stood out among the 100 exhibitors at the event as champions fighting for safe and inclusive spaces for LGBT students in Chile's classrooms.
In all during the event, more than 100 people pledged to support Todo Mejora's efforts in equal education opportunities, 18 people attended the organizaton's workshop on adolescent youth suicide prevention and homophobic bullying, and many others attended a panel in which Todo Mejora spoke of the challenges facing the education system in Chile with regards to LGBT inclusivity. Way to go! We look forward to next year.
ECUADOR: Excellent videos just keep on coming! Since officially launching in June 2015, Todo Mejora Ecuador has done an excellent job at helping LGBT champions and their allies share stories and messages of support to LGBT youth in need in their country. Check out their newest video, "If We All Don't Laugh, It's Not Funny," released this month.
ITALY: Once again, Le Cose Cambiano (our affiliate project in Italy) has been nominated for hosting the Best LGBT Website in Italy in the Macchianera Italian Awards 2015. This is the second year in a row that Le Cose Cambiano is being nominated for this award, and last year they went home as winners. We wish them the best of luck this year, as well as congratulations to all of the other nominees!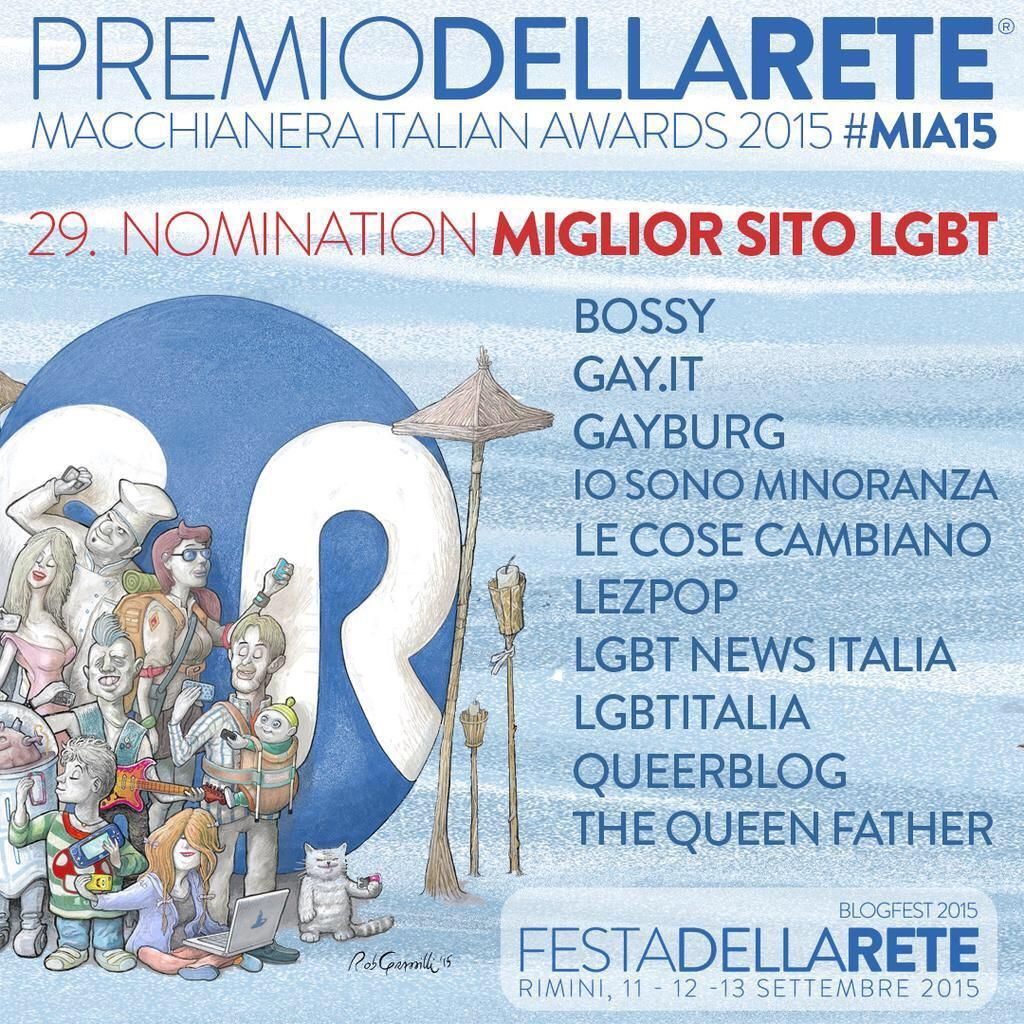 MEXICO: ForoMty is a citywide initiative taking place in Monterrey, Mexico that gives citizens and decisionmakers space for linking ideas, people and community projects. For three days each year, Forum participants present visible solutions to social problems facing the city with purposeful calls to action.
This year, Fernanda Garza, the Director of our affiliate project Todo Mejora México, gave a riveting speech, motivating the crowd to build more inclusive spaces for LGBT people in the city, and to provide support to LGBT youth in need. You can catch a glimpse of her on stage at the 2 minute 13 second mark in the video below. Way to go, Fernanda!
PARAGUAY: The International Young Leaders Assembly (IYLA) is a premier partnership-driven leadership development initiative that empowers promising young leaders to positively impact communities, nations and the world. This summer, delegates from the assembly visited Washington D.C., Philadelphia, and New York City where they participated in special sessions on moral and innovative leadership in service and entrepreneurship.
The culminating event for this year's program was the IYLA Global Summit held at the United Nation's headquarters in NYC. Diego Valdez Bazán, the director of our affilaite project Todo Mejora Paraguay, attended as a special delegate from Paraguay thanks to his leadership and direction in championing LGBT rights in his country. Congratulations, Diego! To find out more about this phenomenal assembly, go to www.iyla.info.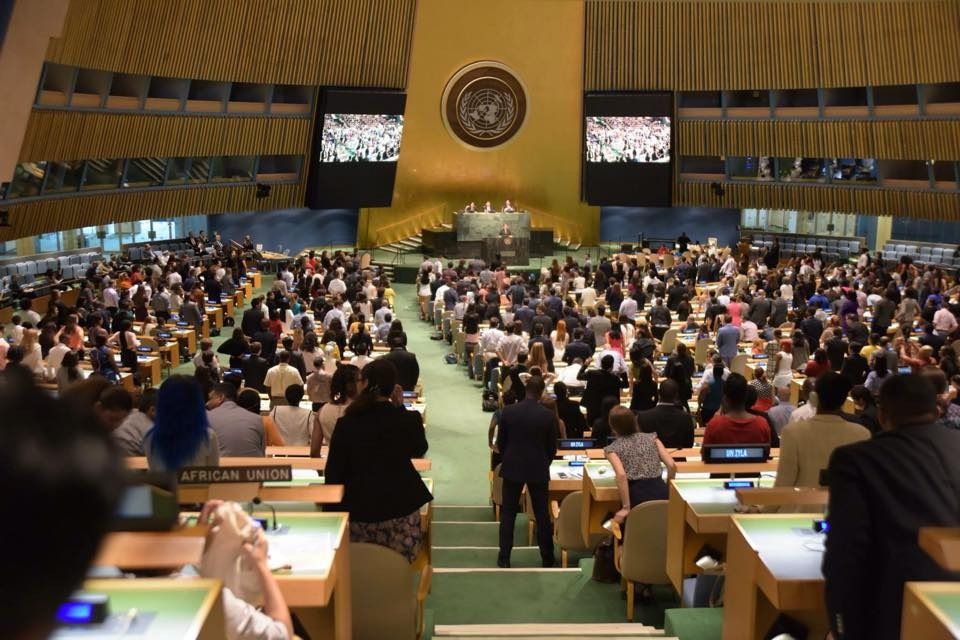 PORTUGAL: With her victory in the Eurovision 2014, Conchita Wurst became the first drag queen in history to win the international competition on behalf of her home country of Austria. Since then, she has become an international sensation. Although she continues to see herself as "just a singer," her fans around the world see her as a gay icon that's breaking down gender norms wherever she goes.
In August, Conchita Wurst paid a visit to her fans in Portugal, where our affilaite project Tudo Vai Melhorar and Trumps (a popular gay club in Lisbon) held a special event in her honor. Local media group, Público, was able to catch a glimpse of Conchita in action. Check out the clips and interview segments from the inspring "Queen of Austria" below!
SPAIN: The It Gets Better España team is busy at work organizing an LGBT-friendly event for "FESTeen 2015," a major youth festival held in Madrid each October. In preparation, the team is recording a series of videos with Spanish celebrities who support LGBT youth. Here the team enjoys some selfie time while recording a video with Eduardo López Collazo, the current Director of the IdiPAZ Institute of Biomedical Research at La Paz Hospital in Madrid. We can't wait to see what the team has in store for us in October!
SWITZERLAND: The Es Wird Besser Schweiz team has taken to the streets again to speak with members of the LGBT community in Switzerland. This time they're asking, "What would you say to your 15-year old self?" Check out video #12 below, or the entire series on Es Wird Besser's Facebook page (videos are only available in German). #Dear15YearOldSelf
We're extremely proud of all of the incredible achievements of our International Program and our affiliates around the world during August. We look forward to more great news in September!