December 2015: Better News from Around the World
Each month we bring you updates about our international work and some of our wonderful affiliate programs from around the world. Check out the awesome news from December 2015 below.
GLOBAL: We're thrilled to announce that, thanks to our wonderful supporters, we reached our end of the year fundarising goal. This was a perfect way to complete the year, and begin another anew. Thank you to all of you who donated to help us continue sharing the it gets better message to LGBT youth around the world in 2016. For those of you who'd still like to donate, go to www.itgetsbetter.org/5yearsbetter.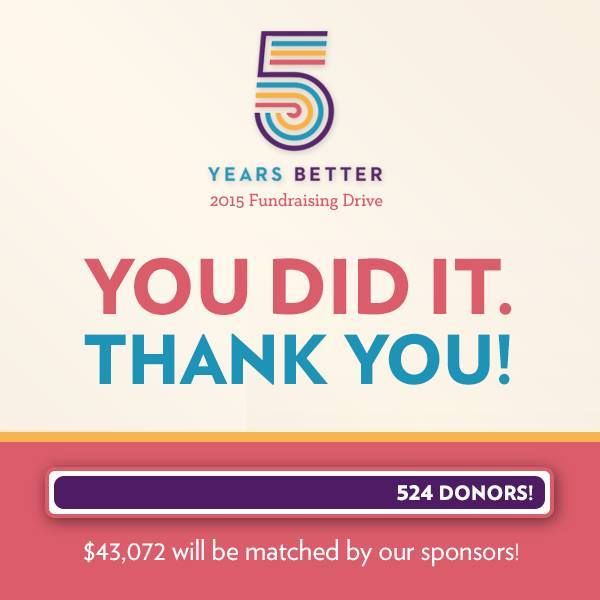 All of these contributions go to support our "5 Years Better" campaign. Everyone has an It Gets Better anniversary, whether it's the day you helped make it better by uploading a video, or the day you watched a video that made a difference in your life. We want to keep celebrating such celebrations, so we're asking people to, once again, share their stories and help us ignite the next wave of conversation to make an even better tomorrow. Here's one of our most recent contributions from our intern McKenna.
Part of making the next five years even better is making sure that our impact continues to spread to new areas around the world. This year, we added 3 new affiliates to our network (Ecuador, Greece, and Colombia), and representatives from the Project participated in over half a dozen international LGBT conferences across Europe and in Israel and Mexico. We look forward to making those numbers grow in 2016!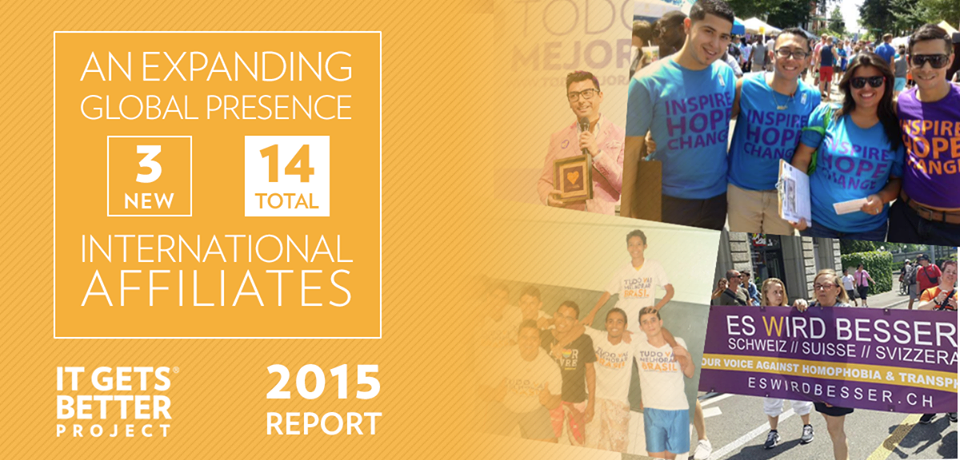 Also, the Project and our affiliates created and collected a lot of videos last year, all in the hopes that they'll help empower LGBT youth. So we decided to make a listicle. Click here to look at the best (in this case, "Most Viewed") videos from each of our countries in 2015. Here was our number one video from Portia De Rossi as part of season two of "It Got Better." It got over 275,000 views!
AUSTRIA: Each December, our friends in Austria remind us that even Santa Claus believes in equality. Don't believe us? No problem, cuz' he's here to say so himself!
CHILE: Our friends at Todo Mejora in Chile made this fantastic video to showcase all of the amazing things they did in 2015. We couldn't be prouder, and we wish them the best of success for 2016.
COLOMBIA: On #GivingTuesday this year, we launched the newest addition to our international network of affiliates around the world, It Gets Better Colombia. This is the 6th permanent affiliate installment of the Project in Latin America following the creation of projects in Chile, Paraguay, Mexico, Brazil, and Ecuador. We're so excited!
Don't miss the first video from the new team below as they express why it's so important that LGBT youth in their country feel empowered and uplifted through the it gets better message.
ECUADOR: On December 3rd, representatives from Todo Mejora Ecuador met with students at José Pino Roca Middle School in Guayaquil to discuss the downsides of bullying and the positive results of inclusivity and equality. Aren't those kids just adorable?!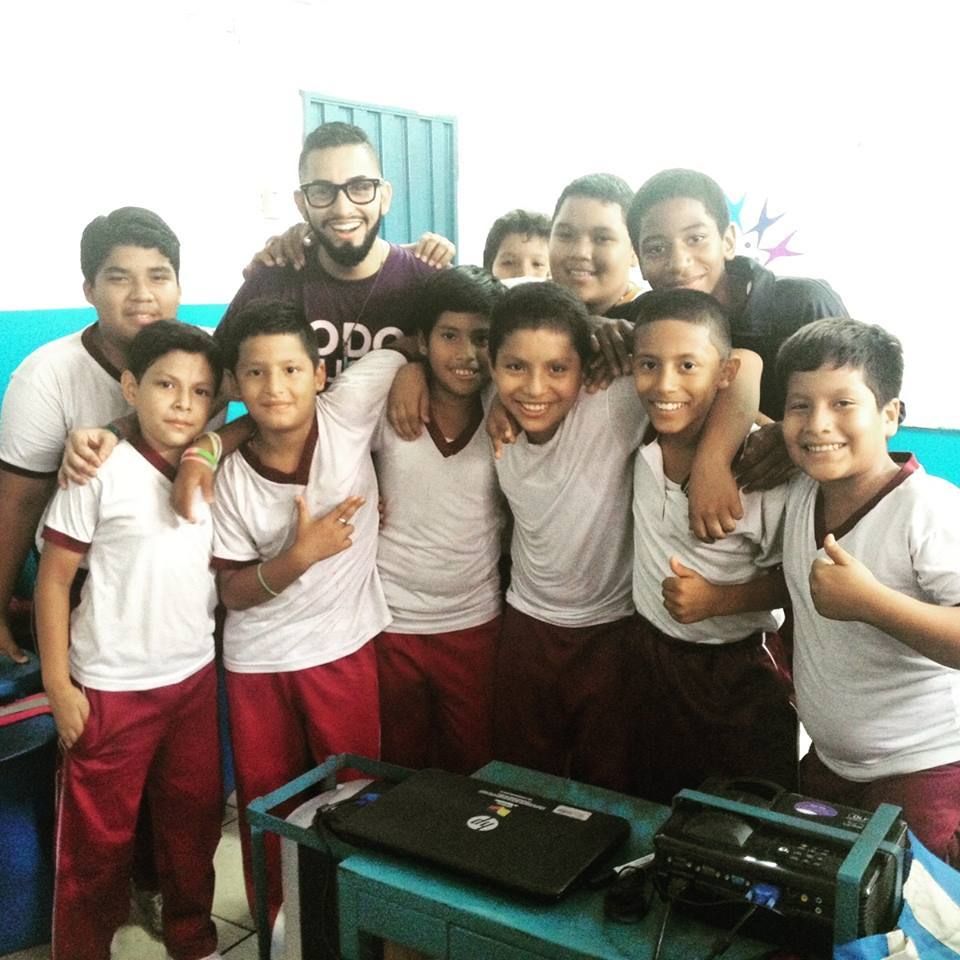 GREECE: Barely two months after the launch of It Gets Better Ελλάδα (Greece), and just two days before Christmas, the Greek Parliament voted to adopt a bill that legalizes civil unions for same-sex couples. Woo hoo! This came as a major victory for the LGBT community in Greece, as well as for the country itself after it was condemned for discrimination just two years earlier.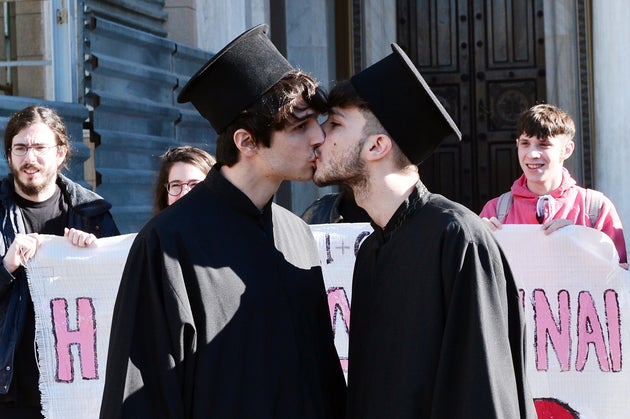 The good news came along with the announcement that It Gets Better Ελλάδα was being featured in Antivirus Magazine, the most popular LGBT magazine in Greece. To check out the full article, click here or on the image below.
MEXICO: Apparently December was the ideal month to release some great videos. This one is from Don Ninicolass, a popular Mexican YouTuber with over 42,000 followers, about his experience coming out. This one is a bit more serious in tone (but only slightly) than his normal videos, so don't miss out on those either. Here's the link to his YouTube channel.
But that's not all that happened in Mexico. Some of our friends at Todo Mejora Mexico, along with other local LGBT activists, met recently with congress persons from the Mexico City Assembly to discuss the inclusion of LGBT issues in local government initiatives. Very cool stuff!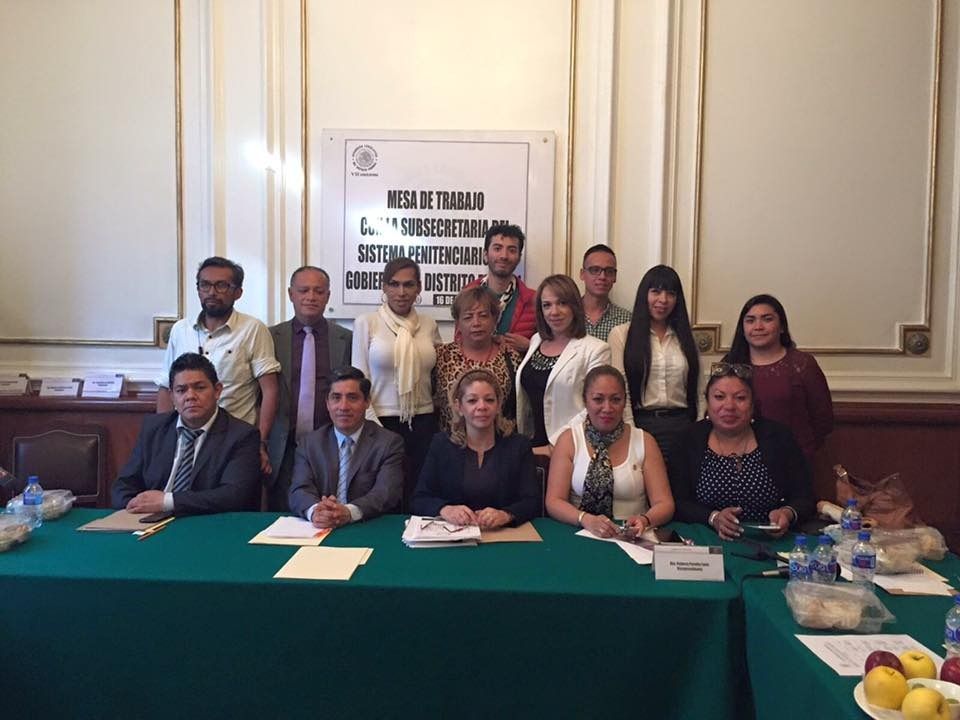 PARAGUAY: December 10th marked the 3rd Year Anniversary since the launch of our affiliate Todo Mejora Paraguay. Over the past 3 years, the team in Paraguay has done an incredible job at sharing empowering stories with LGBT youth, like some of the ones in you see in the graphic below. We couldn't be prouder to work hand in hand with such a great group.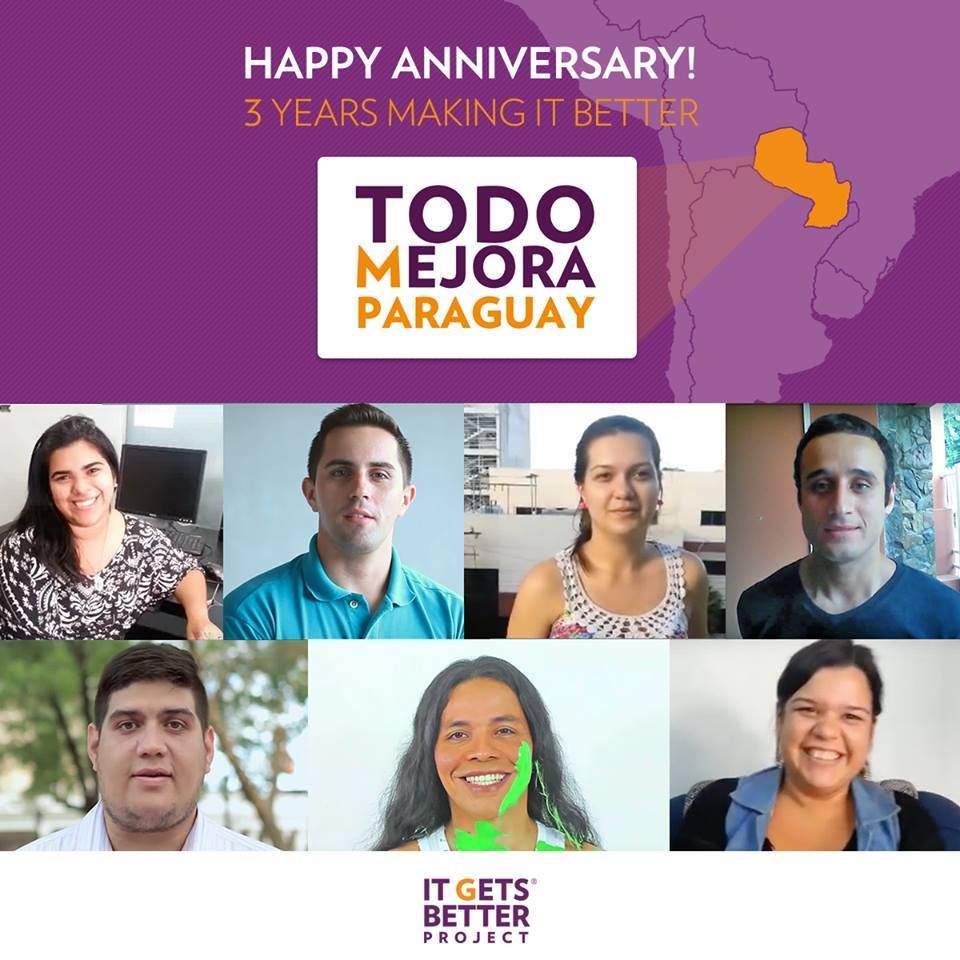 And what's a better time than your anniversary to recommit to helping your country be free of bullying in 2016? Best wishes!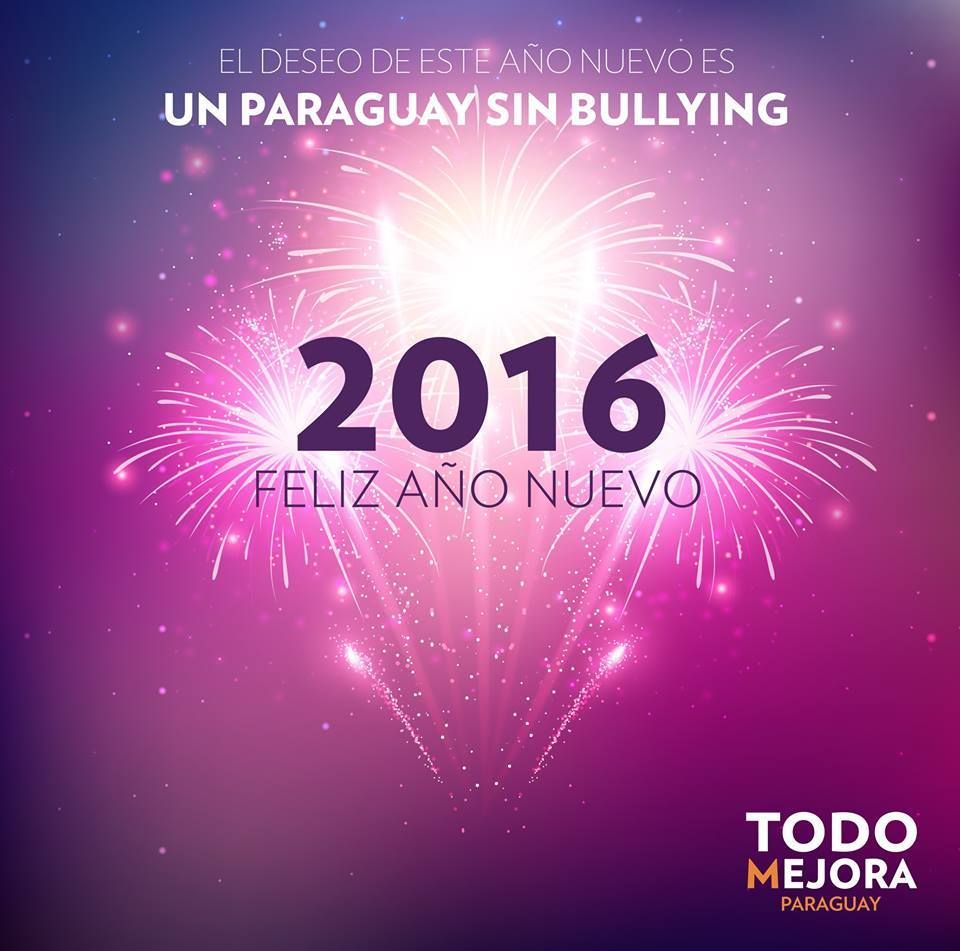 SPAIN: And last, but certainly not least, It Gets Better España celebrated their 1st year anniversary since their relaunch on December 13th. In just one year, they've come a tremendously long way, as you can see in the smiling faces in the graphic below. We absolutely love working with our friends in Spain, and we hope to enjoy many more years with them to come.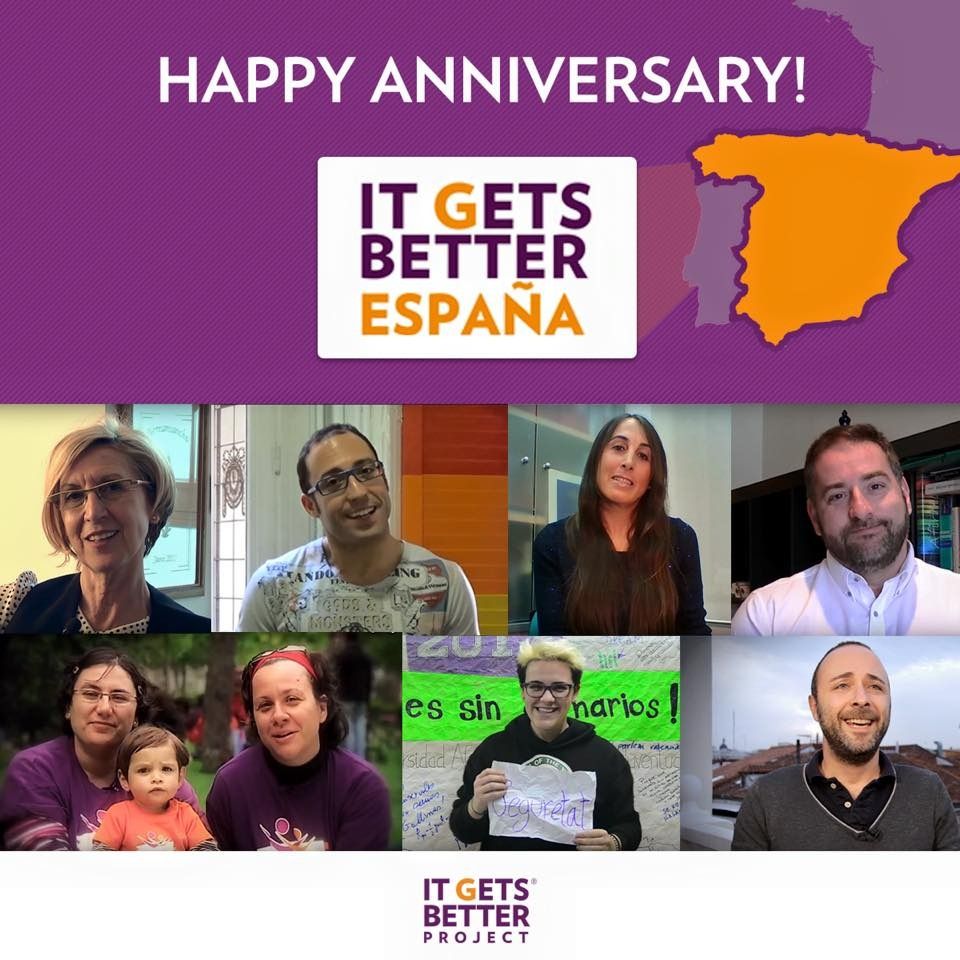 We're extremely proud of all of our incredible international achievements and those of our affiliates around the world during December. We look forward to more great news in 2016!