February 2015: Better News from Around the World
Each month we bring you updates from our International Program and some of our wonderful affiliate programs from around the world. Check out the awesome news from February 2015!

GLOBAL: A new entry was added to the It Gets Better Blog - International in February. This one comes as an excerpt from the It Gets Better Book by Urvashi Vaid, an Indian American rights activist, organizer, and writer who works in progressive and LGBT movements.
The IGBP International Program was recently featured in the Winter 2015 issue of Public Diplomacy Magazine from the University of Southern California (USC). You can read the article, "Global Messaging for LGBT Youth: A Case Study of the It Gets Better Project," by clicking on the image below (pg. 38).
AUSTRIA: Es Wird Besser Österreich, our affiliate program in Austria, produced and shared a special Valentine's video known as the "Flirt Test." The video has been become one of their most viewed videos on YouTube after their recorded it gets better message from Conchita Wurst.
BRAZIL: Representatives from our affiliate project Tudo Vai Melhorar - Brasil and the U.S. Consulate General in Recife, Brazil, Richard Reiter, recently awarded local student Hilano Hilário for his recent submission to an online video contest. His winning video, "All Together Against Homophobia," was recognized for its involvement of youth in the defense of human and LGBT rights and respect for diversity in Brazil. Congratulations Hilano! To check out his award-winning video, click here (available only in Portuguese).
CHILE: Our affiliate in Chile, Todo Mejora, is holding its third annual Premios Todo Mejora (It Gets Better Awards) in March, so they've been working hard to get ready for the incredible event! The Premios event exists to honor individuals and industries that are making a difference in representing and serving the LGBT community and young people in Chile. In attendance will be famous Chilean singer Francisca Valenzuela, musician and artist (Me llamo) Sebastian, awardees from IBM Chile, and many more.
Todo Mejora in Chile also became a new recipient of Google Ad Grants, a program that empowers nonprofit organizations through $10,000 per month in in-kind AdWords™ advertising. This type of support helps nonprofits by promoting their missions and initiatives on Google search result pages. Congratulations Todo Mejora!
ITALY: OVS, a popular Italian clothing company, teamed up with Le Cose Cambiano, our affiliate program in Italy, for the #ShareYourLOVS Valentine's Day campagin. OVS asked their customers to send "kisses" (pictures) to their website and donate to Le Cose Cambiano in an effort to support young people against bullying and homophobia. Click the image below to see all the kisses from the campaign!
Also, thanks to Coloradindaco, a local LGBT association, representives from Le Cose Cambiano were able to work with 250 high school students in Lodi, Italy during February. Even more, Le Cose Cambiano was able to kick of a new outreach project in February called Progetto Prisma that aims to work with young LGBT students in Bologna, Italy. Keep up the incredible work!
MONTERREY (MEXICO): February was the month for image campaigns! Todo Mejora Monterrey released a series of LGBT-friendly Valentine's Day images created by artist and designer Diana Ortega. Click the image below to check out all of the V-Day images from the artist.

The team from Monterrey, Mexico was also able to release an it gets better video from popular Mexican singer and actor, Christian Chavez. (Available only in Spanish.)
PARAGUAY: Thanks to the amazing talents of Todo Mejora Paraguay's graphic designer, Ramon Gonzalez, our South American affiliate also released an adorable series of Valentine's Day images for the holiday this year, both in English and Spanish. The series is called #WeAllCanLove. You can click on the image below to check out all of the LGBT-friendly images on their Facebook page.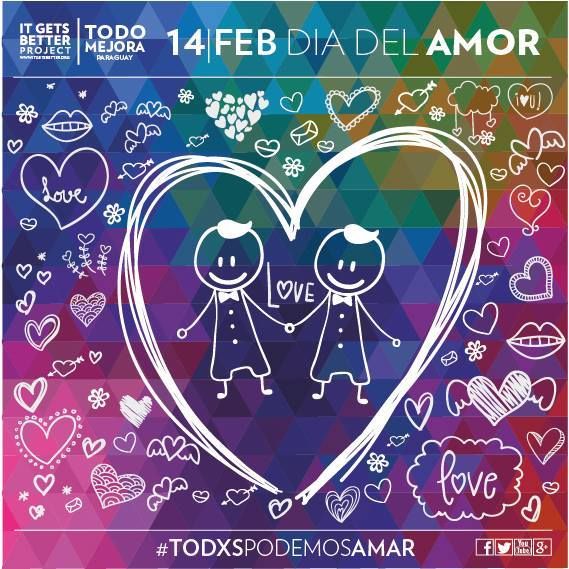 SPAIN: Thanks to her recent video contribution, Rosa Diez Gonzalez is the first Spanish politician to ever record a personal it gets better video. She was followed shortly thereafter by Carla Antonelli, the first transexual member of a Spanish Parliament. You can check out their inspiring videos below (available only in Spanish). Congratulations, It Gets Better España, on helping to make these wonderful videos available to LGBT young people in Spain!
We're extremely proud of all of the incredible achievements of our International Program and our affiliates around the world during February 2015. We look forward to more great news in March!