February 2016: It Gets Better Global News
We bring you monthly updates about the It Gets Better Project and our affiliates around the world. Check out the great news from February 2016 below.
GLOBAL: Over the years, we've seen powerful representations of LGBT teenagers on TV shows such as My So-Called Life, Glee, and The Fosters, to name a few. Now there's The Real O'Neals, a brand new ABC series starting Wednesday, March 2nd. The It Gets Better Project is partnering with the show to help LGBT young viewers connect with its powerful stories about coming out, family acceptance, and religion. Don't miss it (or at least watch it later on Hulu)!
Here's the trailer, just in case you missed it on our social media.
Next week, members of the It Gets Better Project's international team are heading to Middle Earth to the ILGA Oceania Human Rights & Health Conference being held in Wellington, New Zealand from March 9-12, 2016. This will be the second annual conference hosted by ILGA Oceania. Representing the Proejct at the conference will be Jacob Thomas, a young change maker, social entrepreneur, performer, and disruptive public speaker from Melbourne, Australia. We're so excited to be sending Jacob to the conference and to support them in their growth and development as a leader in the LGBT movement in their region of the world. To learn more, click here, and check out Jacob's pre-conference video here:
COLOMBIA: Our newest affilaite, It Gets Better Colombia, is killing it on social media! Recently they hosted a gift exchange via Twitter - for each it gets better story shared, the storyteller got a free mug (llama not included)! To check out all of the great stories shared, check out their tweet thread here.
For those of you that can read in Spanish, don't miss this incredible it gets better story from one of the Twitter contributors. Thank you, Luis, for your story!
ECUADOR: Our friends at Todo Mejora Ecuador just started a new campaign on social media called #MamásPorLaIgualdad (#MomsForEquality). Follow them to see more of these heartwarming pictures and stories!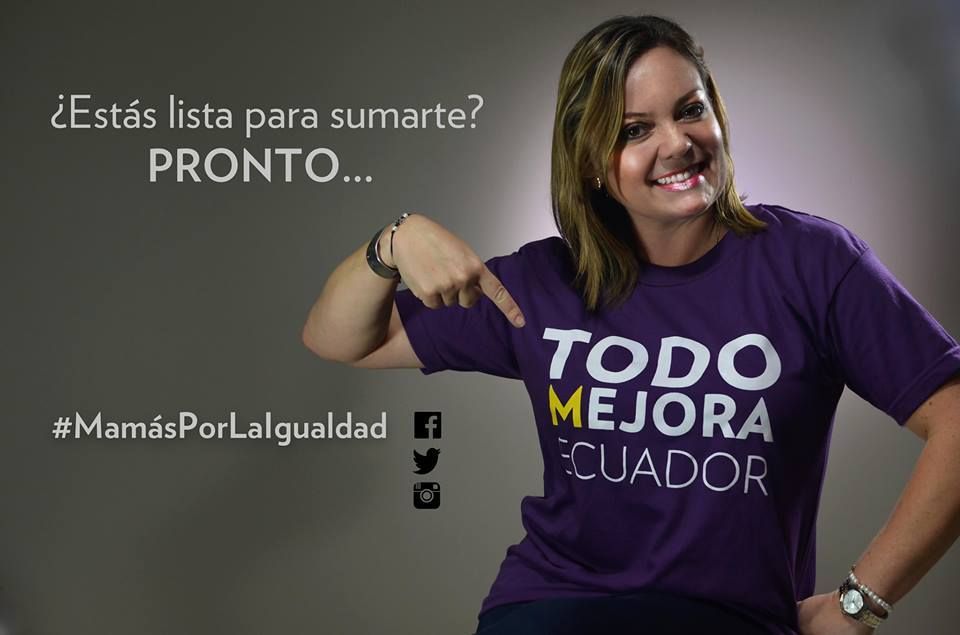 GREECE: Auguste Courteau is one of the most famous writers in Greece, an out and proud role model for the Greek LGBT community. In his video – the first official video for our new affiliate, It Gets Better Greece – he tells us about his struggles through his childhood, his coming out to his father, and how things got better for him (only available in Greek).
SPAIN: In February, It Gets Better España held an IGB party in Cuenca Club in Madrid. The aim was twofold: to introduce the project to young people taking advantage of the Carnival, where everybody dresses without bias, and to raise funds for the association. Check out the photos below!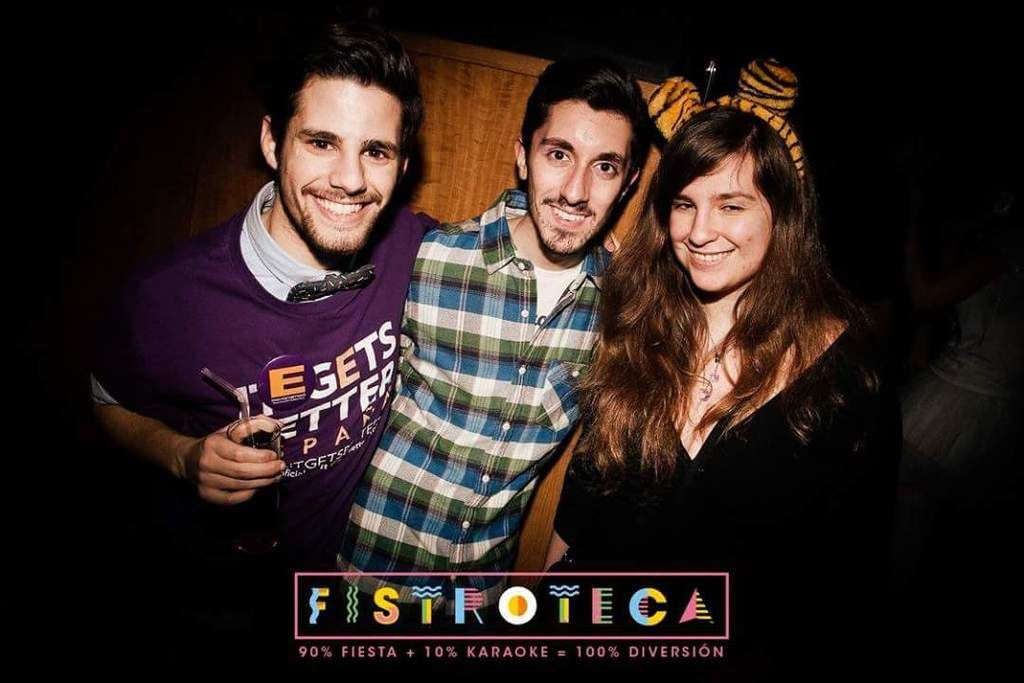 AUSTRIA: Our partners in crime in Austria, Es Wird Besser Österreich, recently managed to gather a bunch of members of the European Parliament together to let LGBT youth in the region know that it gets better. This is a powerful display of support from one of the most powerful political institutions in the world. We couldn't be more impressed! Check out the incredible video below.
ITALY: This country is going through a lot right now: Italy's Senate just approved same-sex civil unions, a very important first step towards equality, but challenges are still being faced over adoption by same-sex couples. Le cose cambiano, our local affiliate, is taking part in it. Here's is a picture from one of the flashmobs they attended (plus these ones here)! To learn more, check out this article from The Guardian.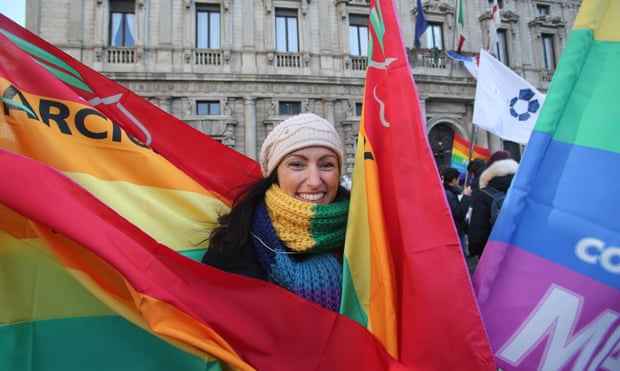 A woman smiles during the Flash Mob 'Wake up Italy' against the discrimination of LGBT people in Milan. Photograph: Matteo Bazzi/EPA
PORTUGAL: Tudo Vai Melhorar, our Portuguese affiliate, launched a new call for action featuring the cast of Coração d'Ouro, one of the most beloved soap-operas in the country. The actresses and actors shared their it gets better message to empower the LGBT youth and to invite others to share their stories (only available in Portuguese).
CHILE: Here's another great it gets better story from a young contributor in Chile. Thank you for being so brave, Patricia, and thank you, Todo Mejora, for sharing!
MEXICO: The communications department at La Universidad Metropolitana de Monterrey recently opened their doors to representatives from our affiliate, Todo Mejora México, and asked them to share about the work they are doing to champion the LGBT community in México. ¡Qué padre!
We're extremely proud of our achievements in February 2016. We look forward to bringing you more great news soon!
Everyone deserves to be respected for who they are. I pledge to spread this message to my friends, family and neighbors. I'll speak up against hate and intolerance whenever I see it, at school and at work. I'll provide hope for lesbian, gay, bi, trans and other bullied teens by letting them know that "It Gets Better."