November 2015: Better News from Around the World
Each month we bring you updates about our international work and some of our wonderful affiliate programs from around the world. Check out the awesome news from November 2015 below.
GLOBAL: 2015 is a special year for us as it marks the fifth year since the start of the It Gets Better Project. As we move into the next 5 years, we want to recommit individuals around the world to making and submitting their own films that commemorate monumental moments in their lives that have made an impact on their identity.
That's why we've launched our "5 Years Better" campaign. Everyone has an It Gets Better anniversary, whether it's the day you helped make it better by uploading a video, or the day you watched a video that made a difference in your life. We want to keep celebrating such celebrations, so we're asking people to, once again, share their stories and help us ignite the next wave of conversation to make an even better tomorrow. To learn more, go to www.itgetsbetter.org/5yearsbetter.
It's fitting that as we launch our "5 Years Better" campaign, we also received great news from one of our most successful colloborations from 2015. Jenni Chang and Lisa Dazols - the stars of "OUT & AROUND," our co-partnered documentary currently available on Logo TV - recently gave a riveting presentation at an official TED conference in their hometown of San Francisco. Watch as their personal story intertwines with those of incredible LGBT pioneers around the world. To learn more about their film, go to itgetsbetter.org/outandaround.
CHILE: The fun goes on in Chile as "Happy Together," the docu-reality series following a gay couple on their quest to having a baby, continues on Chilean television channel TVN. The show features the story of Julio Dantas and Juan Pablo Fuentealba, two of the co-founders of our affiliate project in Chile, Todo Mejora. The show is absolutely wonderful, so don't miss episode 2 below, or episodes 3 and 4 that are currently streaming online. (In episode 3, there's an fantastic cameo from our friends at Todo Mejora, so don't miss it!)
And if you haven't seen her videos before, don't miss the latest one from Chilean popstar, Francisca Valenzuela, who is an ambassador for Todo Mejora in Chile and a proud supporter of LGBT youth. Thank you, Francisca, for all that you do to help guarantee that it gets better for youth in Chile.
ECUADOR: Since their launch in June, we've some incredibly inspiring videos come from our friends at Todo Mejora Ecuador. Here's the latest from Jorge, who has an incredible story to tell about coming to love and accept himself as a gay man. Keep 'em coming Ecuador!
ITALY: After working closely for months with the students of Progetto Prisma - the wonderful GSA at the University of Bologna in Italy - our friends at Le Cose Cambiano decided it was time to start working with teenagers, too!
So in November, volunteers from both groups met with dozens of high school students in-person in the cities of Legnano and Besana Brianza. The sessions were great, as the volunteers engaged with the high school students in discussions about sexual orientation and gender identity, how to be good LGBTQIA allies, and to answer their questions about coming out. These events were possible thanks to Biancoenero Edizioni, the Italian publisher of Absolutely, Positively Not by David LaRochelle, a coming out novel for young adults.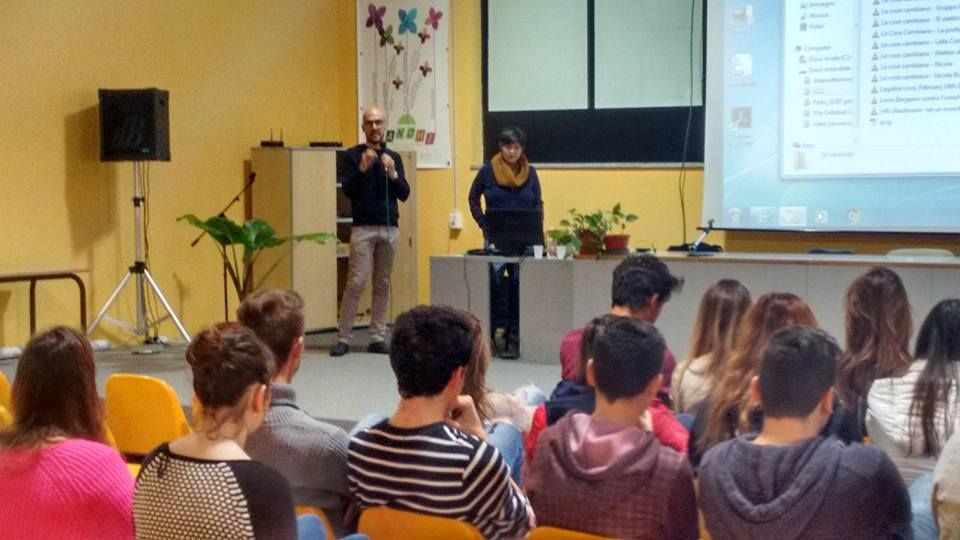 MEXICO: It's been a long time coming, but we finally posted on our blog this month about our team's visit to Mexico City last summer. If you hadn't heard already, the U.S. Embassy in Mexico invited our Manager of Global Partnerships, Justin Tindall, to Mexico City in June to help train some of the leading volunteers for our affiliate, Todo Mejora México, and to speak to activists and supporters of the LGBT community in the city. The experience was absolutely incredible, and we encourage you to read all about it by clicking here.
Once again, none of this was possible without the incredible support from our friends and partners at the U.S. Embassy in Mexico. Thank you! It's because of people like you that youth in Mexico are coming to know that it gets better.
PARAGUAY: Recently our friends in Paraguay received the following heartwarming message from Cinthia M., a local LGBT community member who follows Todo Mejora Paraguay on Facebook. This simple gesture is all it takes to convince us the work of the Project and our message matters. Thank, Cinthia, for sharing your story.
Spanish: "Sufrí en silencio por 7... o tal vez incluso 8 años, y finalmente este año salí del closet como transexual. Cuando mis padres entendieron que era mejor tratarme psicologicamente como trans, me di cuenta que no todo esta perdido, y ahora unos meses de eso estoy en terapia para aprender a lidiar el día a día como transgénero y aprender todo sobre la transición. Todo mejora, no sufran en silencio, hay gente allá afuera que puede ayudarte a cambiar tu vida para algo mejor".
English: "I sufferened in silence for 7... or maybe even 8 years, and I finally came out of the closet as transexual this year. When my parents came to understand that it was better to treat me psychologically as trans, I realized that not all was lost, and now after a few months I'm in therapy to learn how to handle the day-to-day of being transgender and to learn everything about transitioning. It gets better, don't suffer in silence, there are people out there that can help you change your life for the bettter."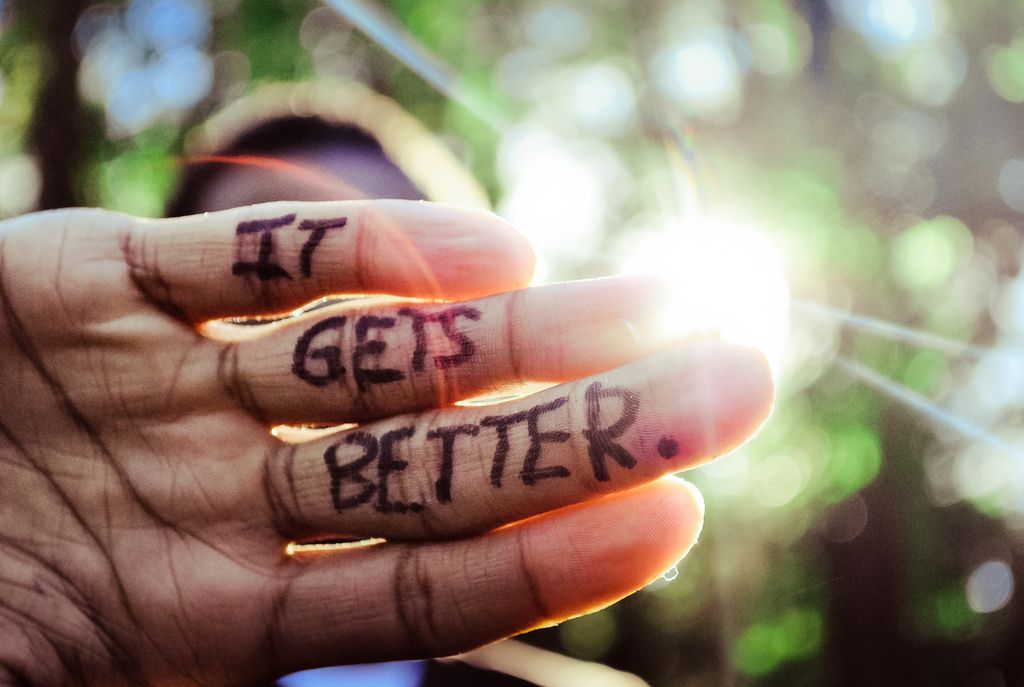 PORTUGAL: November 10th marked the 3rd Year Anniversary since the launch of our affiliate in Portugal, Tudo Vai Melhorar. Over the past 3 years, the team in Portugal has done an incredible job at sharing empowering stories with LGBT youth, like some of the ones in you see in the graphic below. You can read about some of them, too, by clicking here. We couldn't be prouder to work hand in hand with such a great group.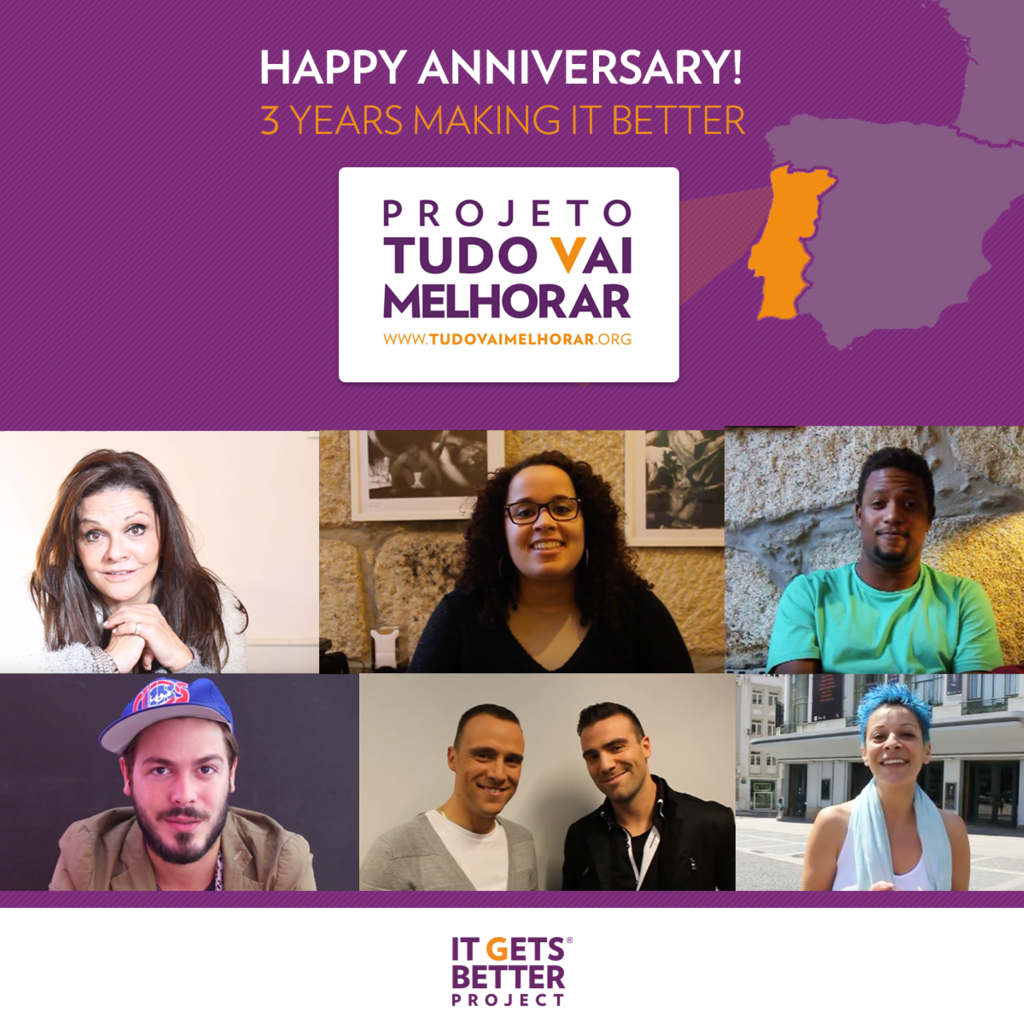 To celebrate, Tudo Vai Melhorar's Board of Directors threw a special event at Trumps, a popular gay bar in Lisbon. Looks like a great party! To see more photos from the event, click the photo below.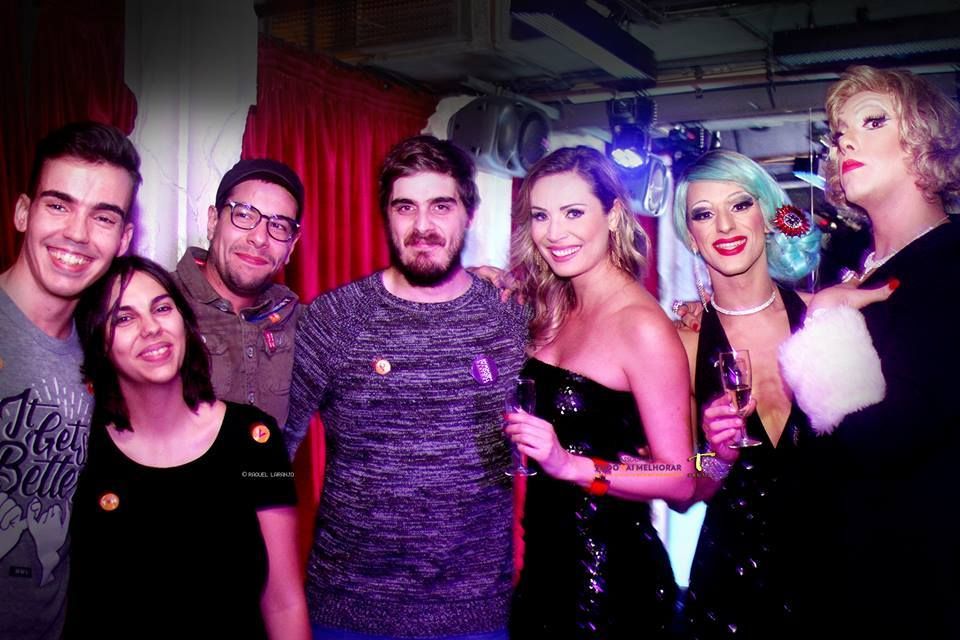 SPAIN: November was an eventful month for LGBT youth in Spain. At the beginning of the month, the president of our affiliate It Gets Better España attended the 25th Annual Meeting of LGBT associations in Spain (FELGTB) and participated in a roundtable on bullying. Next, the affiliate's support-area coordinator, a Ph.D. researcher on bullying, participated in the LGBTQI Homelessness Study Session organised by IGLYO in Budapest. Then, the affiliate's treasurer attended the conference "Youth Empowerment: How to Build GSAs in Schools" in Amsterdam. Lastly, the affiliate's secretary was invited to the V Jornadas de Educación to discuss how to teach about sexual and gender diversity in schools. Wow, what a great month!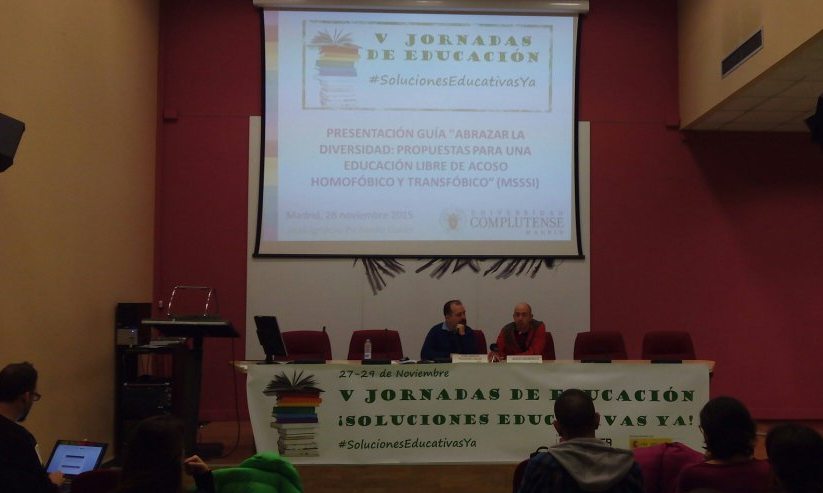 SWITZERLAND: Our friends in Portugal weren't the only ones who had an anniversary last month. On November 24th, Es Wird Besser Schweiz, our affiliate in Switzerland, celebrated 4 years since their launch, making them one of our oldest and dearest affiliates. Congratulations!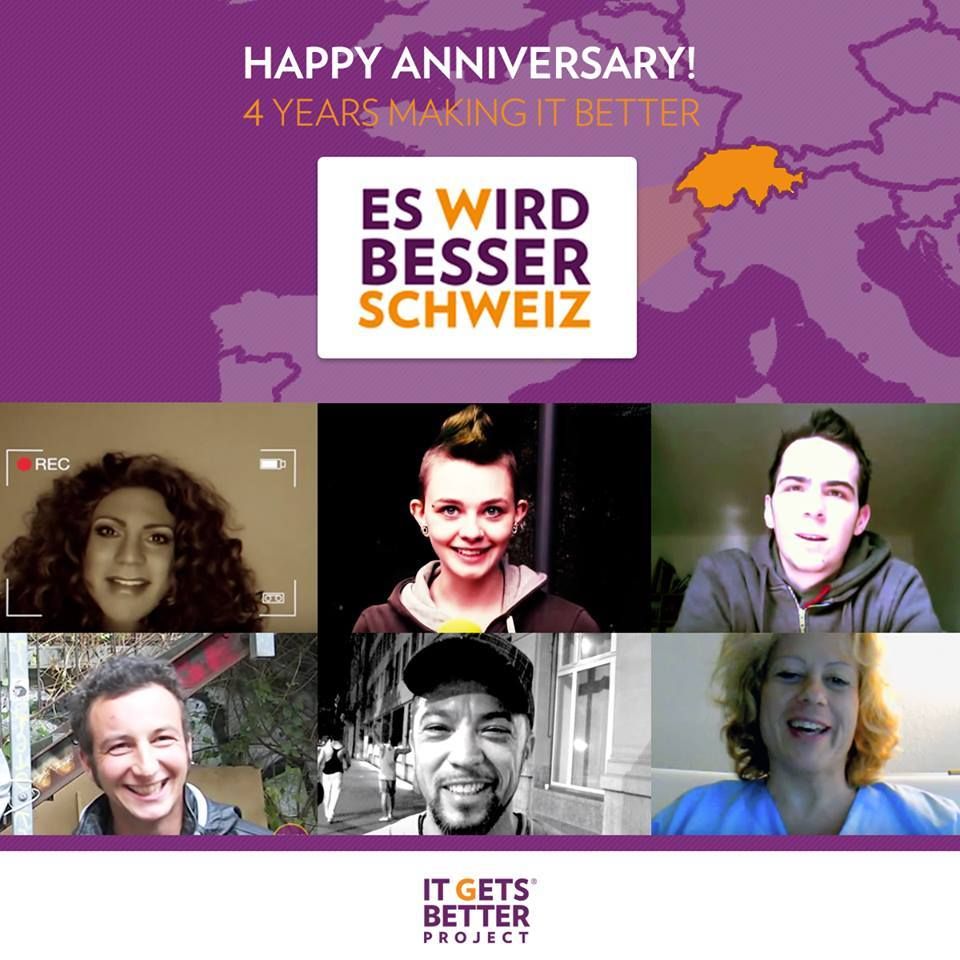 We're extremely proud of all of our incredible international achievements and those of our affiliates around the world during November. We look forward to more great news in December!