November 2016: It Gets Better Global News
GLOBAL: November was a month to remember here at the It Gets Better Project, thanks in large part to all of the contributions made to our organization on #GivingTuesday. We blew past our $10,000 goal for the month, and we are well on our way to reaching our year-end goal of $100,000. Thank you to all of you who have supported us!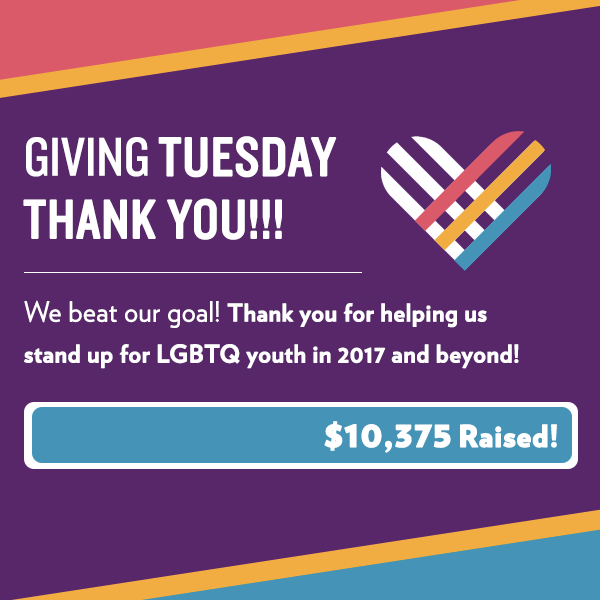 Raising $100,000 requires a lot of work behind the scenes. Thankfully, we have a staff and a board that are up to the job, as you can see in our mannequin challenge below. We're working hard to bring you more great stories in 2017.
But Novemeber was about more than hard work and fundraising. It was also a time to remeember those we lost in Orlando last summer. That's why we partnered with Whisper to send messages of hope and comfort to those who need it the most. You can see some of those messages in the photo below taken at this year's Orlando Pride.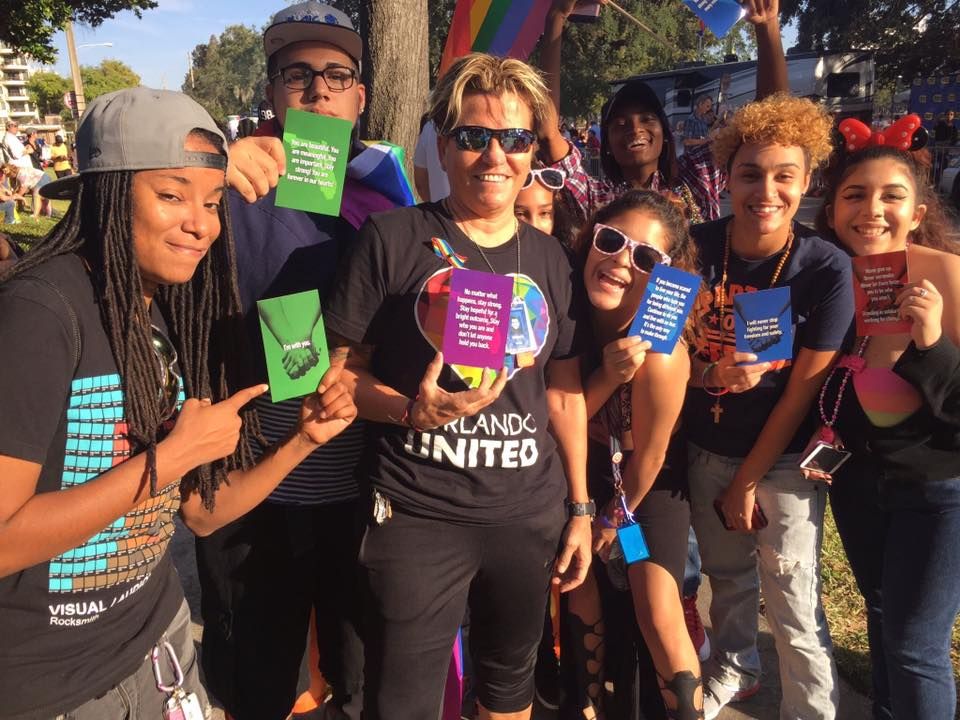 CHILE/GREECE: Last month, hundreds of advocates gathered at the annual world conference of the International LGBTI Association's (ILGA) with a united goal to improve the wellbeing of LGBTQ people everwhere. We had three representatives there on behalf of the It Gets Better Project, It Gets Better Greece, and TODO MEJORA (Chile). They learned a lot while at the conference, and connected with some incredible leaders. Thanks to their experience, we feel more equipped than ever to inspire and empower young people like you!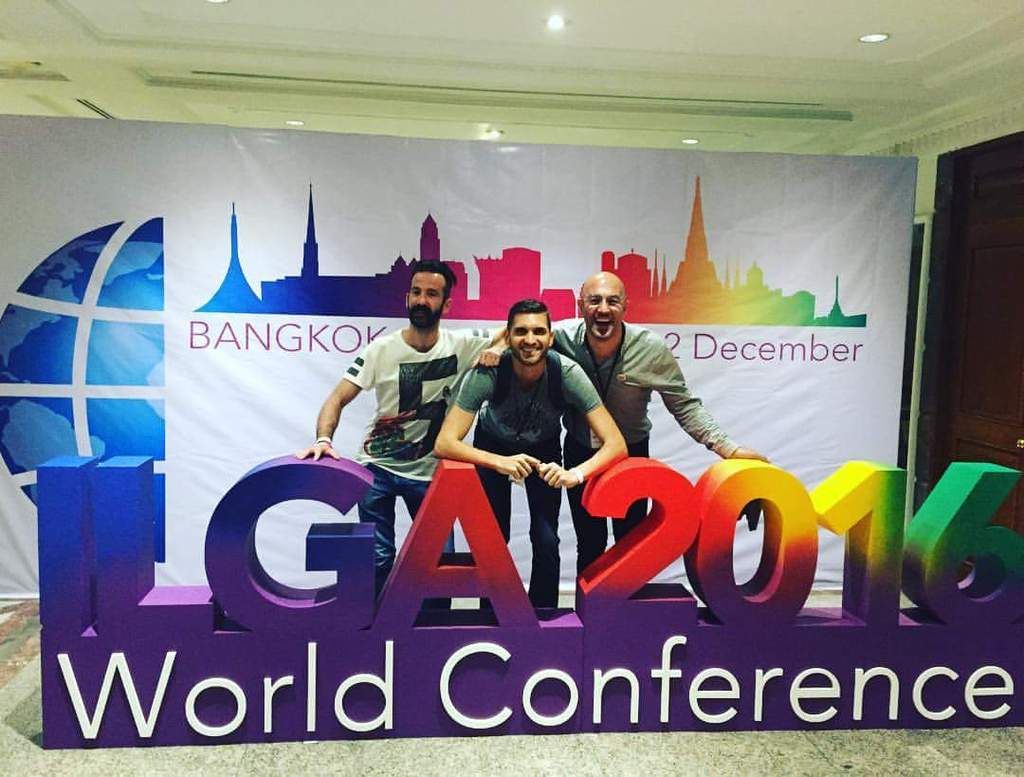 Our affiliate in Chile also recently announced its partnership with UNESCO Chile to start BiblioDiversa, an online space for people to collaborate and learn about ways to prevent bullying/harrassment in schools and in other walks of life. Check out the website HERE.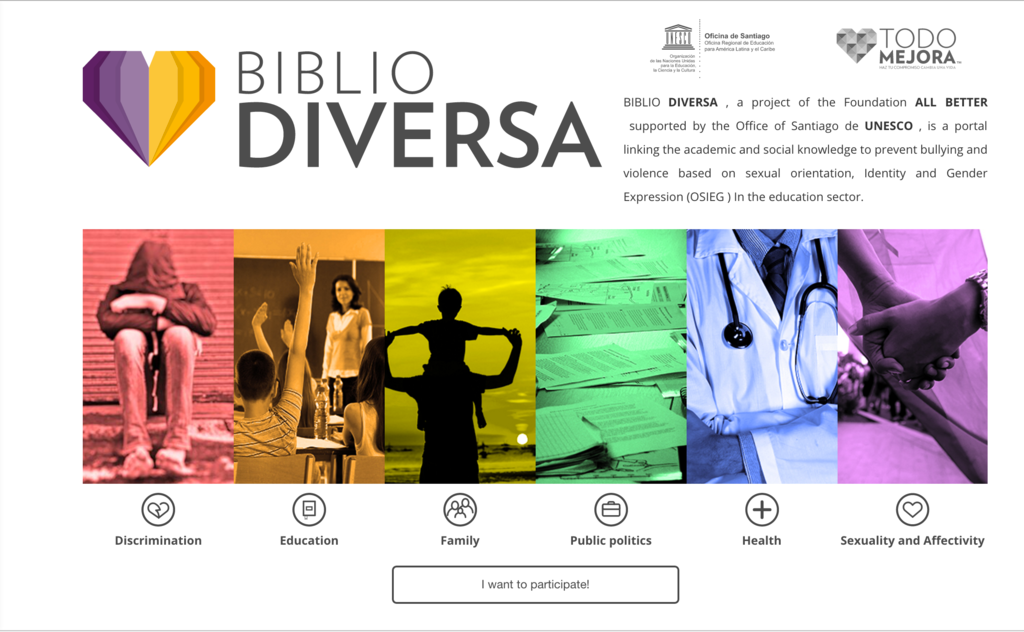 PARAGUAY: Diego Bazán, President of IT GETS BETTER PARAGUAY, gave a fantastic seminar last month at the annual conference for UNASUR's (The Union of South American Nations). His address was on the importance of civil volunteering in the fight for LGBTQ inclusion and visibility. Congratulations, Diego!
SWITZERLAND: Ever wonder what's it like being LGBTQ in Swtizerland? Well, these friendly folks know. You can watch their videos below, collected by our good friends at IT GETS BETTER SWITZERLAND.
Perú: Ana Monsalve, our director at IT GETS BETTER PERÚ, was recently selected to join in President Obama's Young Leaders of the Americas Initiative (YLAI), a program developed to build linkages between young leaders across the hemisphere. Way to go, Ana! We're very, very proud.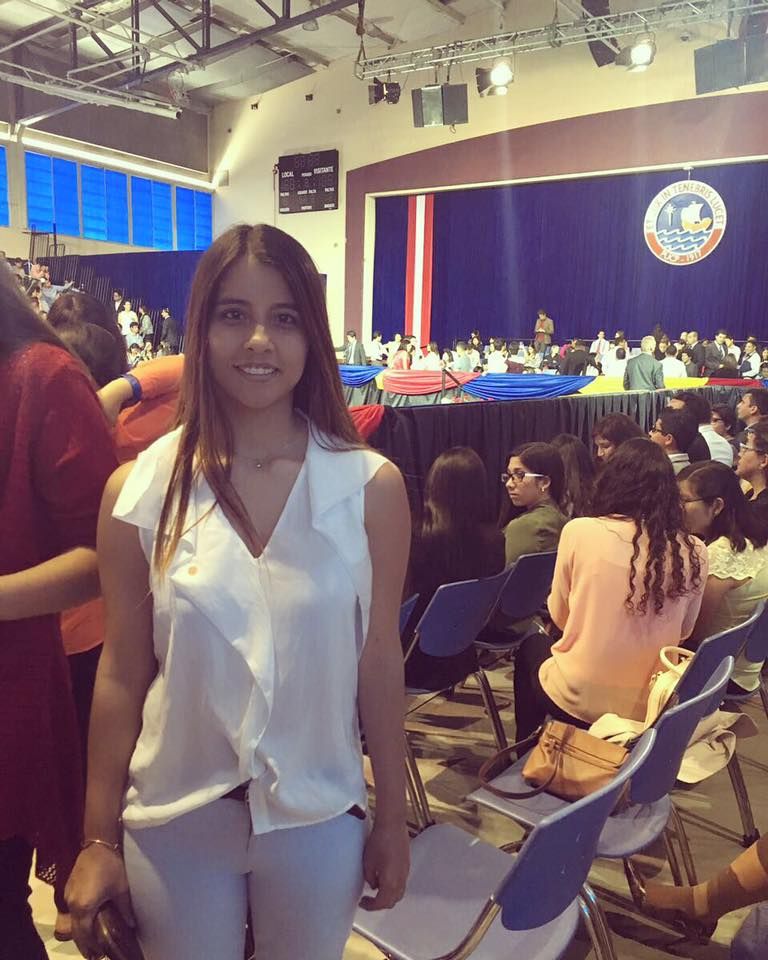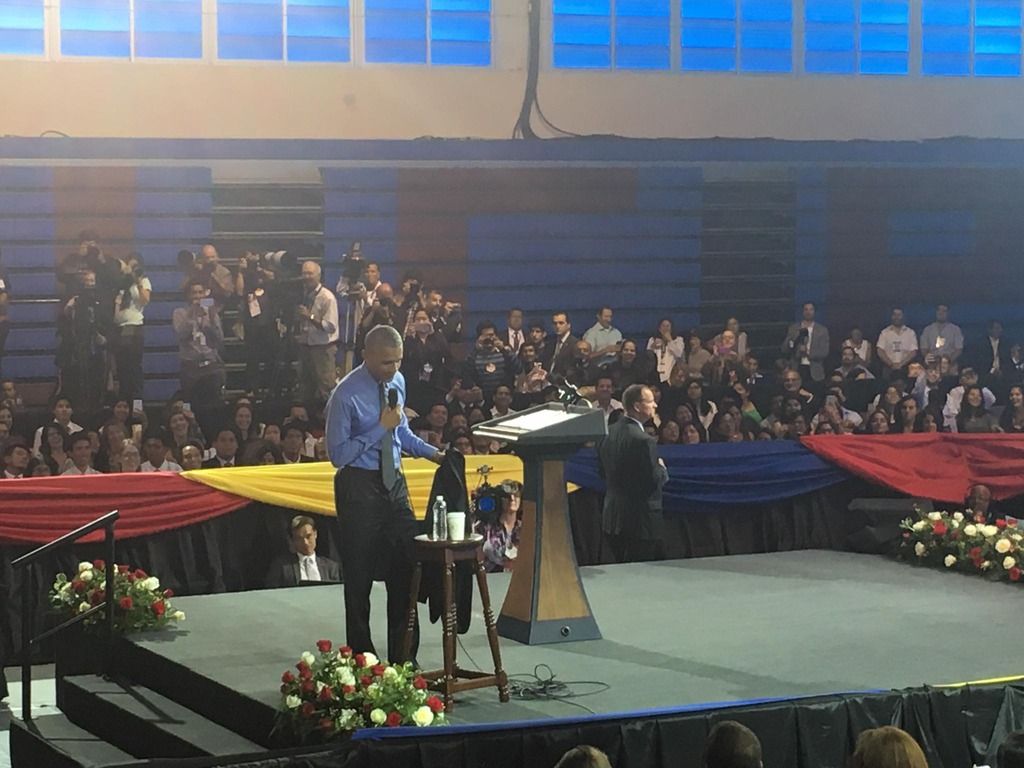 COLOMBIA: We encourage people to tell their stories in whatever form that works best for them. Our friends at IT GETS BETTER COLOMBIA received this thoughtful message from a very courageous young person named Daniel.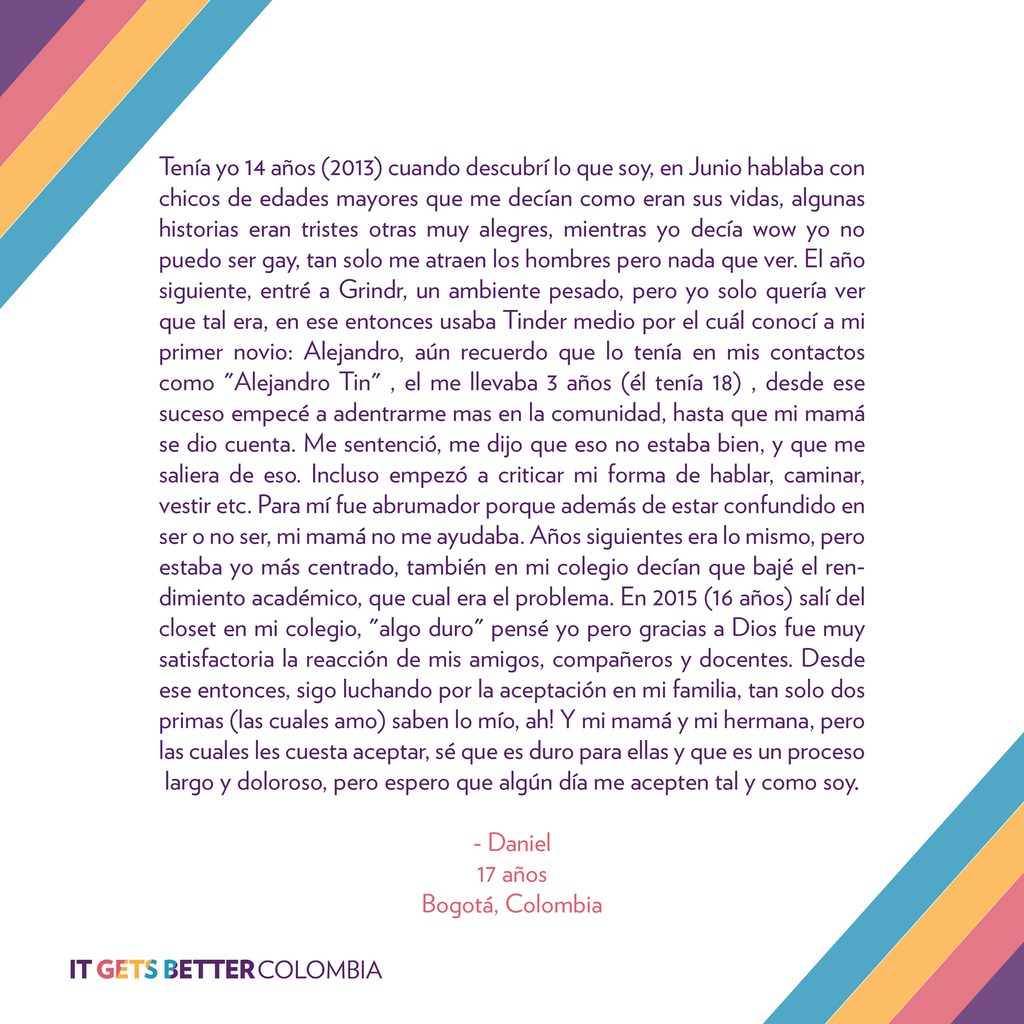 ECUADOR: IT GETS BETTER ECUADOR has been busy on the story collection front. Check out the vibrant Susy Hidalgo ensure others that it does, in fact, get better.
MÉXICO: Sam Del Rio, our Communications Manager at IT GETS BETTER MÉXICO, participated in a series of conferences at the Metropolitan University of Puebla. There he met with YouTube influencer, LGBT activist, and tech guru Ophelia Pastrana, and the hilarious comedian, Martin León. So awesome!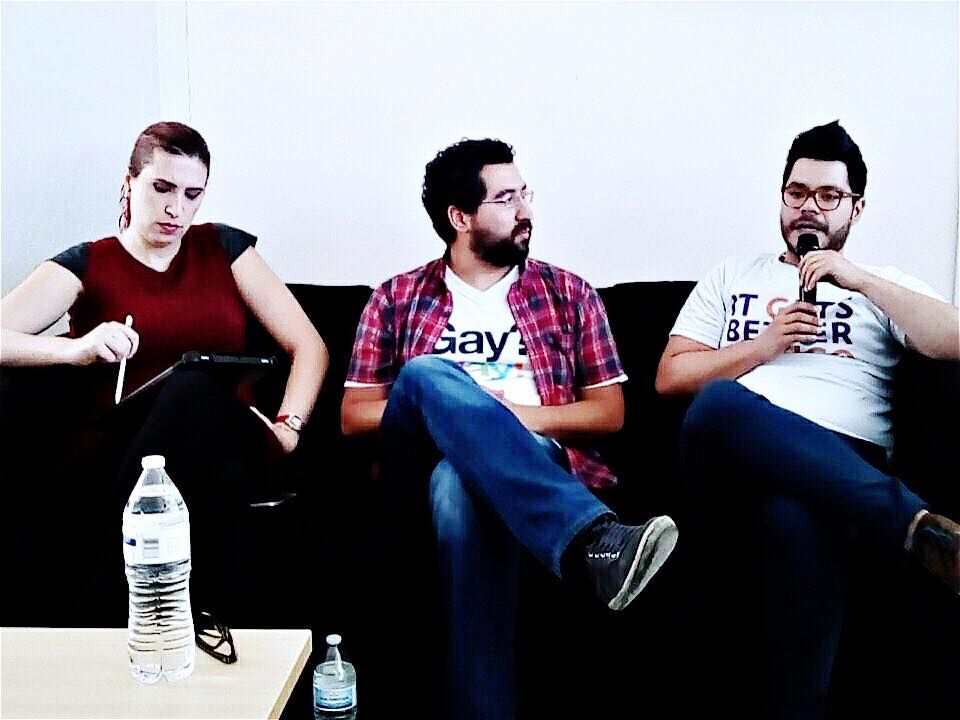 It was also awesome to see IT GETS BETTER MEXICO featured in the Huffington Post México last month. Click HERE to check out the full article.
AUSTRIA: And the videos keep coming in! ES WIRD BESSER ÖSTERREICH collected some fantastic new stories last month that you can check out below.
What a fantastic month for all of our affiliates that span the globe! We are constantly learning from their experiences and continue to grow and become better. We are eager to bring you even more exciting news next month.
Everyone deserves to be respected for who they are. I pledge to spread this message to my friends, family and neighbors. I'll speak up against hate and intolerance whenever I see it, at school and at work. I'll provide hope for lesbian, gay, bi, trans and other bullied teens by letting them know that "It Gets Better."